With two daughters in the family, there have been too many princess parties the years. Here you will get my best tips for organizing successful princess parties.
So how do you organize a successful princess party? Send invitations to the princess party in the right style. Often it is PINK, other times GLITTER, but it can also be a princesses image. If you want, you can make a birthday crown, necklace, and birthday sash when guests arrive at the party. It is essential to serve the guests special princess food and cake. The table should be decorated with pink and glitter. The birthday princess will be happy to have a throne too.
But we'll be right in on the details! You can also get help finding great birthday gifts and more games at kids' birthday party!
What is a princess party for her?
The first thing you need to do is check with the princess what princess parties mean to her. Is it pink and Disney princesses she has in mind can be very wrong if you choose the gold and real princesses. To fall out of favor with the Princess is the last thing you want such an important day in her life! So make sure that you do this job well !!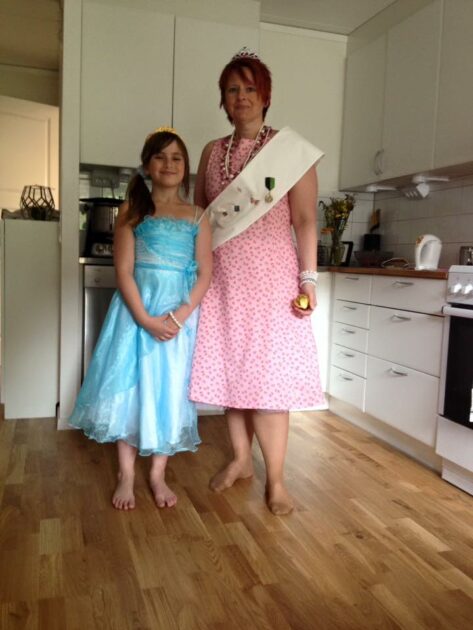 Invitation to a princess party
To begin with, it takes a very nice invitation to a princess party. It can e.g., be made of pink paper, where you use a curly font. The letter can then tied with a satin ribbon and sealed with a lacquer stamp to get the right impression. Examples of text you can use the invitation
" You are welcome to Princess ____________ kingdom to celebrate a magical birthday "
" Welcome to my kingdom "
castles :
date :
Duration :
Here it is also essential to specify the dress code for one of the guests who will feel underdressed.
" Put on your beautiful princess dress and your finest jewels "
Tips on things you can put in the envelope
Sequins and beads that look extra nice kind.
Cinderella's glass slipper that you cut the plastic film and tie with ribbon in card
A balloon with invited the princess's name. Blow up the balloon without tying. Write the princess's name and then let the air out of it again. Overhead Pens and pencils to write on CDs usually works well.
If you choose to distribute the invitations personally, it is fun for the little princess to also get a flower at the same time as the invitation.
Clothes for a princess party
An excellent way to start princess parties is that guests are making princess equipment. Is that smaller children can prepare crowns and just adapt them to the right size when the kids come, and let the kids get to decorate crowns. Maybe a birthday sash also!
CROWNS
For crowns needed: gold paper, scissors, stapler, elastic bands, beads, sequins, and glue.
Here's how: Cut the crowns and staple to the princess or prince gets a dime in the right size. Also, add an adhering elastic band so that the crowns sitting well throughout the party. Then let the kids get to decorate their crown with beads and sequins.
There are even princesses ready to buy if you want it.
VEIL
Sometimes you want the princesses to have a veil. It accomplishes this easily with a piece of tulle, an old lace curtain, or an inexpensive meter that you can find e.g., IKEA. The veil can be attached to the crown or neck with a little elastic. The veils are something that may need to be prepared before so that princesses' veils are ready when they come.
Coaks
Shows up princes at princess parties are probably not that interested in obtaining a veil. So then it may be better to have a blazon of cardboard as they get to decorate or a mantle of a slightly thicker fabric type velvet so that the band can tie their robes on his shoulders.
DRESS
For a princess party, the birthday princess has to be the most beautiful girl at the party. Even if you do not buy a premade princess dress for her, she can be beautiful at the whole party if she has a leotard or nice top. Sew a skirt to her in tulle and thread elastic waist. Princess dress can also be decorated with delicate beads and sequins.
BEADS
You can also start a princess party with the guests making a necklace of the respective bit larger beads if you want. However, princesses tend to be impatient when they go to a party and do not have so much patience, so choose the beads that will be pretty fast to bead with!
MAGIC WAND
Sometimes even princesses use wands. An elegant wand you get if you take the chopsticks you spray with gold or pink and decorate with glitter, sequins, gold paper, or beautiful ribbons.
Decorations for a princess party
At princess parties, it is vital to have a throne. It is easy done by swiping the chair into a beautiful fabric and tie on a ribbon. At the top of the chair, attach a crown of gold paper.
For the princess's birthdays, it is necessary decorations out of the ordinary. The table should have a cloth in pink or any other royal color approved by the monarch herself. Decorate the table with sequins, glitter, gift strings, beautiful beads, and large flowers of tissue paper or pompom balls made out of napkins. Hang crepe paper from the roof to get the right princess look.
A party, of course, including the balloons. Here you should get balloons in pink and with a ribbon in each so that the princesses will bring respectively after the party.
For all events where the royals gather needed a red carpet. It fixes this by adding a few meters of red cloth outside the front door.
Is it hot can princesses having a respective fan. Own fans fix it by sticking a cake paper on a round piece of cardboard and then cut each piece of cardboard into four parts. A cake of paper is enough to fan the four princesses.
Lovely place cards are made by cutting out the Cinderella shoes in a plastic film that you place on each plate and writing the princess's name. Make pink crackers with small surprises or perhaps pink paper hearts that you are tape on to the princesses straw.
There is a whole bunch of pink stuff to buy for princess parties.
What do you eat at a princess party?
For a birthday party, a whole lot more than just candy and sugar might be served. Sausages, for example, are something that most princesses like. Whatever you do, do not serve apples. They can be poisoned and princesses when parents come to pick them up. You get a little challenging to explain why their daughters are sleeping. It may work with sandwiches in the stars and heart shape too, but princesses can be picky with food.
As for the goodies, the princess cake is a must. If you can make a cake on several floors that look like a castle or a wedding cake, it is the most wanted. A pink cake will also be accepted.
It takes some luxurious drinks when you have such distinguished guests. Start by mixing sugar and food coloring and stir. Next, pour a little water into a barrel. Dip the glasses' upper edge of the water, and then the sugar. Set them aside while you prepare the drink. Here it would be best if you had frozen berries and frozen raspberry drink you put into heart-shaped ice cubes. Then fill the glass with soda or lemonade.
Alternatively, usually, princesses like a milkshake. It allows you to 200 g strawberries, 7 cups milk, and three tablespoons of sugar. Run it in the blender until everything is well mixed. Pour into glasses and serve with a straw in pink, gold, or silver.
Candy bags
Obviously, like princesses, they love to have a bag of sweets before they go home from the party. Stylish candy bags can make cellophane or tulle wrap them with pink ribbons.
What do you play at a princess party?
SCAVENGER HUNT WITH PRINCESSES
What is more suitable for princess parties than a quiz about princesses? Add questions about Disney princesses, princesses of classic fairy tales, the well-known princesses from royal houses.
THE PRINCESS ON THE PEA
Fill a jar with peas and tie on a gold band and let everyone guess how many peas are in the box. The one who comes closest wins a small prize of some sort.
WHISPERS
Here the princess sends a message to the king or queen. The children sit in a circle, and the princess whispers in the ear of the closest child. When the word finally reaches the king/queen, she/he says the message out loud. Often the news is quite different from that which the princess was initially being sent away. The next round is the future princess's turn to think of a message.
PRINCESS BINGO
Make bingo cards with pictures of famous princesses such as Disney Princesses, and the child who first gets five princesses in a row will win a small prize.
KISS THE FROG
This competition required lipstick, a blindfold, and a picture of a frog put up on the wall. Each princess fitted with lipstick on your lips will move forward one at a time and get the blindfold on her. She is swirled a few laps and will then try to kiss the frog in his mouth. The leaving lipstick imprint closest to the frog's mouth wins.
CINDERELLA
Here we sit in a circle on the floor, and one of the children has a shoe in his hand. A parent is reading the story of Cinderella, and every time her name is said to send the pump on to the next child. The holding Cinderella's shoe when the story is over wins a prize.
PUT THE CROWN OF THE PRINCESS
Draw a princess on a large sheet of paper whether children need a crown of gold paper that you write the child's name. Blindfold the child and spin them around a few laps. Then they try to put the crown on the princess's head. Closest to win!
Activities on the princess party
As I talked about earlier, it is an excellent activity for princess parties to let children make a robe, veil, and crown as they decorate nicely.
It can also be appreciated if you buy into champagne glasses in plastic they can decorate with jewels and precious stones. When the party is over, they take with them the things they have done.
Set up a large piece of paper on the wall and let the kids get to draw their rainbows, unicorns, flowers, dragons, and knights.
A treasure hunt may well be an ideal way to hand out the candy bags at. Draw a treasure map or lay out a trail of clues until the treasure chest. A good treasure you get by dressing in a box in gold paper. Beautiful treasures are candy bags, gold coins, or rocks that you paint with gold color to become gold nuggets. If you as a parent to play with, you can be king and queen who lost treasure, and thanks for your help, give kids their sweets as a reward when they find the treasure chest.
Related questions
What to play at a children's party? If you do not want just a princess party might relay, chocolate pudding games or mind-reading are good games at a children's party—more tips on games at a birthday party you can find here.
How do you arrange a Barbie Party? First, send invitations with Barbie images on them. Please send letters to the child + her favorite Barbie. Next, decorate the house in pink, with pink tablecloths, plastic flowers, pink light bulbs, balloons, and disposable tableware—good things to eat at a Barbie party's cupcakes in pink or strawberry. Continue reading for more tips on how to organize a Barbie birthday party.
How do you arrange a unicorn party? Make colorful invitation cards. You do not buy ready-made unicorn clothing, but it works well with a disposable suit and put on a party hat horns. Want more great tips to organize a unicorn party?
What can you use the theme of children's parties? Good topics in children's parties are detective parties, ghost parties, and pajama parties. Are you looking for more party themes? I have many suggestions.