When a new baby has come to the world, friends and family usually want to give presents and congratulate the latest addition in the family. But what is an excellent gift for a newborn baby? Some excellent tips here: Gift basket, baby monitor, baby nest, a personal teddy bear, or a sun umbrella.
Cheap gift for a newborn baby
Giving away a basket with a little small and good for the newborn baby is very common. But buying a ready-made gift basket can be VERY expensive. You can make your own personalized gift basket much cheaper. You can use these ideas and create a more affordable and more personalized gift for the newborn baby.
Making your gift basket for the baby is great fun and is always very much appreciated by the new mom—both she who gives birth to her fourth child and the firstborn likes to have them. Making your gift basket gives you a gift that looks very exclusive without spending a lot of money. But the gift nevertheless becomes a charming and personalized gift for the newborn baby.
Membership in the football club
Avoid giving the little one a lifetime membership in the wrong soccer team! That can make the interested soccer father a little pissed off.
Here's how to make a cheap gift basket
If you do not already have an empty basket at home, you can often find it cheap. There are both with and without handles. Maybe you can find a beautiful basket that they can use for decor in the baby's room then?
First, you need some lovely napkins that you cover the bottom with and maybe let it hang a little over the edge, also depending on what looks the best in your basket.
You can fill the basket with things they need for the baby, e.g., diapers, baby ointment, washcloths, baby towel, baby bottle, bib, snuff blanket, pillows, pacifiers, baby soap, baby shampoo, kick suit, socks, etc. To make the basket look exclusive, you need more decorations. For example, you can Tie the diapers together in bundles with the help of bows or laces. Maybe it can also be helpful if you add some toy to the baby in a matching color. When you buy the diapers for the basket, keep your eyes open. There are often discount coupons you can use.
Maybe you don't just want to give a gift to your newborn baby? Want to put more stuff in the basket? Why not add some small things to your mom as well? Hot tub, chocolate, or similar.
With this gift, you can spend as much or as little money as you want. It also offers a lot of customization options. Even if you are not so creative, you can make this gift very beautiful by just folding the gift's contents nicely and with a cute bow on it. A basket of things you need is a very appreciated gift for a newborn baby!
BABYNEST
A baby nest is an excellent gift for a newborn baby. It will be cozy and cozy when the baby is going to sleep. Besides, it is very convenient to bring with you if you are going to sleep away. It still feels like you're relaxing at home with a baby nest, and everything looks normal and smells as usual. It will be easier to fall asleep that way.
If you can sew yourself, then this is a perfect gift to give. A lovely baby nest is usually very expensive to buy in the store, so it is appreciated. To make it as cheap as possible, my tip is that you purchase the most inexpensive pillows at IKEA and use it as padding in the baby nest. Then you can spend a little more money on finding a fabric that you think parents like.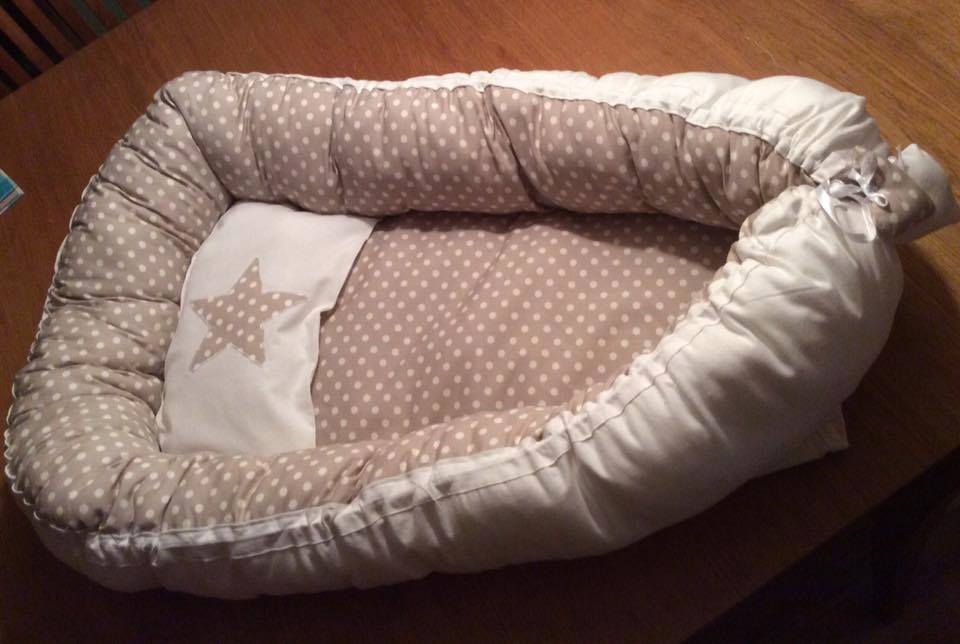 FUNNY GIFTS FOR A NEWBORN BABY
A fun gift to give a newborn baby is a book.
PRACTICAL GIFTS FOR NEWBORN BABY
There are many handy gifts you can find for the newborn baby. Here you will find some gift tips.
BABY MONITOR
A little more down-to-earth gift is the baby monitor. It may seem redundant, but you do not need to go into the bedroom with a baby monitor to check if the baby is awake.
BABY CARE
HYGIENE
Baby kit with hairbrush, toothbrushes, pacifier, teething ring, and nail scissors. If you want to give some start-set gift to a newborn baby, it will not be cheaper than this.
I had some problems when I came home from BB after I had my oldest child. How to bathe your baby? It is challenging both in the bathtub and the sink. Instead, I bought a large, bulky plastic tub that I placed on the kitchen table and poured water in with buckets. He was slippery as an eel, but eventually, we got to the tactics. Today, there are better solutions that prevent babies from sliding around, no water that needs to be carried in buckets across the room, and you do not need a massive and bulky tub. Here are some handy bathtubs I have found. The first one looks very good because it is foldable to take up much less space. It can feel safe to buy extra support for the baby even if you are a little above. They become very slippery when wet and soapy.
BABY BAG IS A GREAT GIFT FOR A NEWBORN BABY
Getting a gift bag as a gift is usually very appreciated. But try to find something that is parental style. It doesn't work with a floral carrying case for some who prefer black as well. This gray carrying case is quite neutral in the colors but a bit more fun if I can say it myself. It has many compartments, which is good because you do not have to look for things. It also holds a computer, and it includes a pad that you put the baby on when it's time to change diapers.
WHEN THE BABY GETS SICK
Nose suction
When a baby gets cold, it isn't easy to breathe. With a lace suction or nose suction, it is easy and painless to clean the nose. Moreover, it is not just babies who cannot sniff their noses. My youngest daughter only cheats if grandma tells her. Otherwise, she refuses. If her nose needs to be cleaned, she would instead use her drawstring.
CLINICAL THERMOMETER
Taking the fever is not always so fun. With this thermometer, you can measure the baby's temperature in one second without even having to touch the baby. It is possible to put the thermometer in silent mode so as not to wake the sleeping baby. Thermometers are suitable for both children and adults and provide a fast and accurate measurement.
WHEN THE BABY IS GOING TO SLEEP
BABY BLANKET
A baby blanket is almost a must. The first blanket is usually cherished and dragged around for many years. Without the beloved coverage, it will be difficult to fall asleep in the evening.
BABY SWADDLE WRAP
Baby swaddle wrap is a unique way to wrap the baby. It usually makes the baby calm down quickly. These blankets are made specifically for this purpose. Included in the package, you also get instructed on how to use them. An ordinary coverage gets too warm and risks going up over the baby's face, but these are safer.
MUSIC MOBILE
A music mobile to hang over the bed or changing table is nice to have. The music is soothing in the evening when the baby is going to sleep. It also makes excellent use on the changing table as the baby can concentrate on the mobile instead of splashing and helping with the diaper change.
WHITE NOISE
A white noise machine is a perfect help to get babies a good sleep. This machine produces white noise. It provides even unobtrusive sounds that screen off the sound from the TV, neighbors' music, etc. It emits a natural tone of flowing air and hides other disturbing noises. That makes it easier for the baby to fall asleep and continue to sleep undisturbed.
CHILD SAFETY
CHILD LOCKS
A child safety kit is an excellent gift if you want to give the family something they REALLY MUST have. This child safety kit will be grateful for in a few months when their little wild father around.
SUN BLOCK
If the child is going to be out during the summer, it is good to protect it from the sun, of course. But hanging a blanket over the carriage will make it incredibly warm for the baby. It is better to buy an umbrella with a sun protection factor. These beautiful umbrellas from Astrid Lovén have a sun protection factor of 50. To be able to attach to the trolley, you need an umbrella bracket. The umbrellas can, of course, be used as ordinary umbrellas when it rains too.
CAR SEAT
They are essential to have proper protection when going out. This chair is suitable for newborns and babies between 0-12 months. What is so great about this particular chair is that it is used in an almost supine position, making it less difficult for the baby to sit in the car for a long time.
MIRROR FOR THE CAR
The safest place for the child to travel in the car is in the back seat. But at the same time, parents do not see the child. With a mirror, you and the baby look at each other while driving. The mirror has flashing lighting, built-in music, and remote control. The mirror is crash tested and is equipped with a soft frame for extra security.
BABY CARRIER
A baby carrier is a great gift. Many babies do not agree to sit in a babysitter or to lie on a blanket on the floor. They want to be with the parents where everything happens. A baby carrier is an excellent gift for a newborn baby. This particular baby carrier is very cheap too.
If you have the opportunity, you should invest in buying an ergonomic baby carrier. It should be made of soft material and support the baby's jerk and neck. The legs should be in a sprouting position. Turning the baby away means that all the weight falls on the genitals, especially bad for boys. The back and neck also do not get as good support then. Slightly more expensive, but ergonomic carriers are, for example—these from Tula.
In a baby gym, maybe the child can entertain himself for a while. The baby gym has cheerful colors, fun sounds, and different music modes. The toys can be moved and replaced—everything for the parents to put down for a little while.
BABY FOOD
BABY'S CROCKERY
Personalized crockery is a fun gift to give to the newborn baby. The tableware is made of durable plastic and contains a porridge bowl, matte platter mug, and cutlery. Children usually love to have their dinner plates at the table.
MAKE ONE PUREE
For the parents who want to give the child healthier food, there are food preparers for making baby foods and purees. After all, it's not that hard to cook an extra potato and mix it for the baby. It is nice to know what the child is eating. Just remember not to give salted food to babies.
BREAST PUMP
When breastfeeding is rampant, a breastfeeding pump is a perfect tool. Pumping milk can be a good solution if the mother is finally to sleep one night undisturbed or have milk crushing. These baby bottles also help prevent colic.
BABY KITS START KIT
This is the ultimate set for baby food. It contains everything you need to make your child's food safe and BPA-free. The package includes an electric sterilizer for the baby bottle and pacifiers, electric food and bottle heater, four baby bottles to prevent colic. Container for scrub powder, two thermos bags to keep the scoop bottle warm for a long time, a few different baby bottle buttons, a regular pacifier for 0-6 months, and a bottle brush.
BOUNCING CRADLE
Babysitting is suitable for both play and rest. Tiny Love has soothing rocking movements and slightly different choices. It has an electronic toy that can play nine different songs for both plays and to soothe the baby. This babysitter also has vibrations to soothe the baby and prevent colic.
THE FIRST TOYS FOR A NEWBORN BABY
Fabric book
Soft books tend to be a popular toy.
RATTLE
Rattles in various forms are usually exciting, preferably in cheerful colors and where there is much to pick with. It is also useful if they are a soft rattle, so the baby does not beat himself with it.
PERSONALIZED BUT INEXPENSIVE GIFTS FOR NEWBORN BABY
Maybe you're more eager to give a personal and inexpensive gift to the newborn baby? Then I think you should spend the money on a toy animal with an embroidered name and date on it.
Or maybe a plaster cast for the baby's feet and hands. As the children grow older, they will be interested to see how much they have grown since they were newborns.
MAKING YOUR OWN GIFTS FOR A NEWBORN BABY
You can sew and craft your gifts for a newborn baby also. Here you have two gifts that my youngest daughter sewed to a baby. It's a dog and a rattle. When she sewed them, she was extra careful about safety. In the rattle is a cheek egg with beads in it for it to sound. But for protection, she taped the egg with a few turns of silver tape. All parts are additionally fastened with some extra seams so that they do not fall apart into pieces. When sewing the presents, she carefully chose a colorful fabric because babies tend to like bright colors on things.
I hope you found a really good gift for the newborn baby. 
BABY CLOTHES IN QUANTITIES ONLINE
New parents have different opportunities because of financial conditions. It can also be about values. In any case, there are many options to choose from. Buying clothes for their newborn baby can be a burdensome expense as costs have increased in different places as the family has grown. Then it can be an excellent alternative to buy used clothes, if not for the sake of your economy, then for the environment. Others think that buying new baby clothes is a matter of course for their newborn baby. Whichever option you choose, the Internet is the solution.
The Internet gives us great opportunities when it comes to shopping for newborn babies. The range extends far beyond the limits of the imagination. Those who need to buy baby clothes do not have to look long online. There are many new clothes, used clothes, expensive clothes, cheap clothes, homemade clothes, and everything in between. You will surely find what you are looking for. New moms and dads are happy to discuss the advantages versus disadvantages of buying new and used clothes, respectively. Some believe that new clothes contain lots of chemicals. With already used clothes, they have been washed away in used clothing.
Large clothing has a large selection of baby clothes. Of course, some brands only manufacture baby clothes, such as Mini Rodini and Villervalla. They offer baby clothes in roughly the same price ranges. If you are environmentally conscious, Mini Rodini and Villervalla are preferred because they work actively with sustainability issues. Caring for the environment is also a way to care for your child.
If someone in your area has just had children, it will also be much appreciated if you give them a box of old baby clothes that you still have just lying in the storage room. Then they come in handy again, and the new little family does not have to spend such large sums on baby clothes. There is so much else that needs to be bought just when the first child is born anyway.
EDUCATIONAL TOYS FOR BABIES
TOYS ARE GOOD FOR CHILDREN'S DEVELOPMENT
People's brains need to be stimulated regardless of age. For babies, this is especially important as it is the basis for continued learning. Baby's brains are not fully developed and, therefore, do not need much to be stimulated. Educational toys encourage the child's development while maintaining the child. For children, there are no boundaries between learning and having fun. Depending on the baby's age, there are different toys recommended.
Digital development has, in many ways, hampered the development of older children. It is possible to see a clear connection between increased internet usage and increasingly poor reading comprehension among young people. Having boring promotes creativity, but unfortunately, children of today never have to be bored. The spontaneous play has disappeared, and so has children's creativity. Therefore, it is of the utmost importance to promote the child's creativity from an early age.
As previously mentioned, baby brains do not need much to be stimulated. Therefore, you do not necessarily need to buy educational toys, but you can create your toys if you have creativity in mind. However, purchase a ready-made toy is a convenient alternative for the stressed toddler parent. The advantage of buying ready-made toys is that you can quickly identify which gadgets are recommended for specific ages.
The range of educational toys is enormous. Suitable for a baby are abacus frames, puzzles and numeral puzzles, toys where the child is to sort geometric figures, and building blocks of all kinds just fine. However, remember to take it step by step and not make it too advanced from the start. Expose the child to easier problems and let him or her solve them himself. As the baby grows, the toys become more sophisticated.
A newborn baby doesn't need such advanced toys. It is enough with mobiles and baby gym. Similar toys stimulate their brain enough. But parents usually appreciate it when their little knot gets beautiful toys.
RELATED QUESTIONS
What is an excellent gift for a new dad? A good gift for a new dad is a piece of jewelry with the child's name engraved, a bottle of champagne, a shawl, hand cream, and a subscription to the magazine We Parents. More tips on an excellent gift for a new dad are here.
What do you give as a present at a baby show? Good gifts on a baby show are clothes, baby bottles, pacifiers, baby harnesses, blankets, toys for the baby, and other things the baby may need. Try to keep it gender-neutral if they don't know if it will be a boy or girl! More tips on gifts for a baby shower can be found here.
What is a good baptizing present? Good baptizing presents are photo albums, paintings for making hand or footprints, money box, shares, or any extra cute toy. You can find more tips on good baptizing gifts here.
What is an excellent baptizing present for a girl? A beautiful toy box, a necklace, a nice car, a carpet plate, a rocking horse, or a toy animal. You can find more good baptizing gifts for a girl here.
What is an excellent baptizing present for a boy? A good baptizing gift for a boy is a painting, a memorial box, a ring, cutlery, a frog, or a robot. You can find more tips on good baptizing gifts for a boy here.
What is an excellent gift for a baby four months old? Good gifts for a 4-month baby are small toys, a toy box, a baby mirror, a dining chair, or a fun baby bottle. You can find more gifts for a 4-month baby here.
Visit these pages as well so you may find more great gift tips: