The stars and space have probably always fascinated all ages, especially children. Let your imagination run free and hold a space party!
But how to organize a space party? Print invitations on paper and decorate with spaceships and planets of paper. Clothes suitable for a space party's astronaut apparel such as a silver cape and a silver helmet. Cover the table with a black cloth that you decorate with wite stars. Cake on a space party, you can make like a flying saucer.
No matter how much imagination you have, it's never wrong to have a little help in the planning and why you should get some advice from me. Who has not been out there a starry night, looked up at the sky and wondered what is there that we do not see. The dream of one day journey into space begins perhaps there. There is probably no theme for a party where your imagination can flow so freely, like a space party.
Invitations
Begin to make to prepare invitations! In the bookstore, there is a little harder colored paper you can use. Cut out a spaceship that you stick onto the card. Nice, it will be if you have a window on the space ship, where a picture of the birthday child can deposit. You can also choose to cut out a round planet with craters and planetary rings. You can also want to buy all black cards and bust stars (why not a specific constellation) on the front. Inside, write with a silver pen.
Replace the standard prases like a date with the "time for the fire of the space rocket," and the time when the party is over, write "return to earth." Instead of the address, enter "Galaxy" or "planet" and end it all with an RSVP to the mother ship.
The text on the card, you can get inspiration from Starwars and start the invitation little as one does with a story – In a galaxy far from here was born a "boy/girl" named "the name of the birthday child." Continue in the same style, but make sure it gets too long. If you want guests to have some more specific dress code, you write that also. The journey might go to a particular planet where all residents must dress in green, have striped socks, and so on.
How to dress for a space party
It is fun if you give the visitors some guidelines for the dress if you want them to get dressed. Otherwise, it can be a fun and appreciated part of the party that all the guests would dress up when they come before the "departure" on the space journey. Whether you provide the outfit or not, you should get a little help here. Other parents can also appreciate it if you have some tips to share.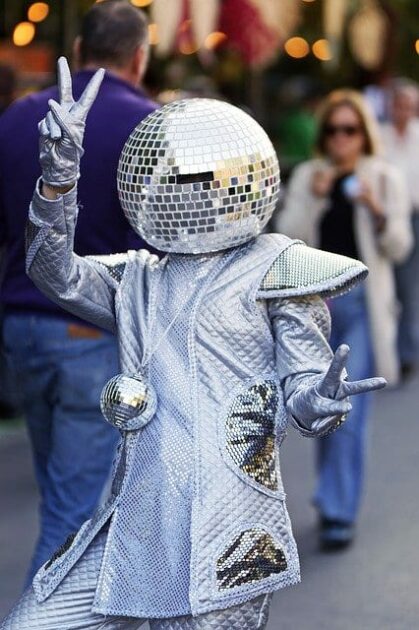 Sew a mantle of silver fabric. In the neck, put ribbons, buttons, or Velcro. Under the cloak, they can ware an ordinary T-shirt and tights.
Do you have a hockey helmet? Wrap it in aluminum foil, and ad to antennas made out of steel wire.
Cardboard boxes are perfect for making space clothing. Spray it or cover it to make it a little more fun. Cut holes for the arms.
Let the children become different planets and put them in paper palls.
Sew a spacesuit or find jumpsuit / one piece. Make a rocket by spray color a large plastic bottle and let the flames (paper) spurt from the opening. Attach the up-and-down on your back.
Decorations
When it is time to set the table and decorate for the party, by now, you probably know whether it will be a party on a different planet or in a spaceship. Perhaps the best is to start the party in the spacecraft and then let it land on the planet where the table is set. If the weather allows, a birthday party can be held outdoors. A tent can easily be transformed into a spaceship. Do you have enough space? Such a spacecraft will even fit indoors, or if you hired a place, it might work there. One tip is to blow up a small Bathing pool and fill it with pillows and other things that might be good to have on a space trip. Or take a large cardboard box and cut out windows. Dress a cardboard box in the appropriate fabric, foil, or paint if you do not want it to be brown. Remember to add some buttons as well, so that it is possible to control the spaceship.
Add a black cloth (or black sheets) on the table and sprinkle stars in silver and gold. Use fishing line to hang wink bullets (colored like different planets) over the counter. Some luminous stars and planets can be attached to the ceiling and the walls. Make sure only you illuminate these properly before guests sit down and dim the lights to get the right effect. Do not buy stars. You can cut them yourself in aluminum foil and put it in the ceiling. A little spaceship, you should, of course, also have both the roof and above the table. Use the same material that you had to invitations. Silver-colored balloons suitable course always set to a space party. You can, for example, form a track that leads visitors into the festive table.
Put colored lights on the ceiling. If you have floor lamps or small lights in the windows, it is also useful if they have a different color. There are many different varieties to choose from, so why not differentiate. There is also a purple light that makes everything white shining. (including the teeth) Ask a Lighting Store, and they will help you. Also, try to dress the windows with different colored tissue paper. They are easy to hang and gives a beautiful light in the room.
On the internet, you can find beautiful space images to print and paste on the chair, or placed on the glass. Give the corresponding image to the guests so that they find their place. These pictures you can attach to candy bags as well, so there is no risk that children confuse them without getting the right home. Especially useful if any children are allergic and can not withstand all without needing a bag with customized content.
What can you serve at a space party?
There are both green and blue soda, but if you do not want to serve soft drinks without milk or the like can color the beverage with food coloring to get the right look. Many children today are accustomed to plain carbonated water to make sure there are options for them.
To bake a cake that looks like a flying saucer is not at all problematic because the flying saucer has a round shape. It is, of course, more comfortable to use ready-made cake bases or meringue base. Add the cake bases on top of each other with filling between them. Raspberry, banana or blueberries, vanilla pudding, always works well. The cream that you cover the cake with, you can also color with food coloring, of course. Garnish with candy so that it looks like the windows on the saucer. Put some space characters (e.g., Lego) on top.
The easiest way is, of course, to make a cake in the shape of a moon. The icing or cream color to yellow and then decorate with space characters on top. Remember to make some craters too.
Candy bags
All parties should, of course, have a bag for the kids as they get when they go home. It's not that hard to find candies that fit the space theme and why not send the little luminous stars and planets that are both fun and will be a beautiful memory from the party's.
If you want to use something other than paper bags is a small foil pan with lid a fun idea. Attache the same planet image as the kids had on their place cards. It's easy to recognize her own "bag." To mark the candy bags is also an excellent way to make sure everyone gets the right content, and you can customize so that even those who are allergic or intolerant to get something it can eat.
Tips on games
PICK MOONSTONES
Look for yourself, or purchase of, for example, the flower shop, round stones that you spray with bronze, silver, and gold color. Hide them in the room and let the children look for, for example, 15 minutes. Mark, every stone with points, or bronze, gives the lowest score and gold the most. Make sure it is the most bronze stones and only a few in gold as it becomes more exciting.
STAR HUNTING
Obtain adhesive stars in gold and silver that you place in a room or a part of the house/apartment. Each guest will receive a piece of paper and a pen to take to the star hunting. They write where they found a star. Set a timer for 5-10 minutes and see who finds the most.
CATCH TAILS
Cut to several different comet tails of red, orange, or yellow cloth. Let each child have a piece that they put in the waistband. The tail should not be attached so hard that it hurts when someone is pulling it away. Now they need to gather as many tails as possible. Anyone who loses his tail is out of the game. The game continues until there are no more tails to take. The one with the most caught the tails wins.
HELP THE ASTRONAUT
This game is the same as the one where you have to put the curly tail of the pig. Make a big spaceship of paper or the like that you put up on the wall. Also, make an astronaut going with. Let each child, in turn, try to put the astronaut in the ship blindfolded—the one who comes closest wins.
A SPACESHIP COMES LOADED
The space ship comes loaded an excellent game to calm down the children, which may be necessary at times. Make a spaceship of a plastic bottle that you spray and make flames from the opening. Put all the children in a circle and decide which letter you are, to begin with. Let the birthday child start. Say you decided the letter R (as in rocket), then say the birthday child such as "A rocket comes loaded with raisins" and sends the ship to the next child. The child will then add one thing on the letter R and can say, "A spaceship comes loaded with raisins and rings." In this way, the game continues with each child adding a thing. It is, therefore, vital to remember what they have said—those who miss being out of the game.
MEMORIZE
If there are many children at the party, memorize is a good game fit to make in two or more teams. The team that gives the right answers first wins.
Gather some things related to space. Put them on the table and plate a cloth over. At a given signal, remove the fabric and let the kids watch a little while, then cover it again. Now is the time to remember what things were under the cloth. 
An alternative to this game is to put all things in a particular order. Let the kids watch a short while before returning cloth. Changing the order and remove the fabric again. Now is the time to remember the rule in which things were.
Related questions
What can you use for the theme of the party? Good topics have at the party's princess party, detective party, airplane party, Moomin Party, or Pippi Party. More suggestions on the themes of children's parties can be found here.
How do you arrange a Moomin Party? Make invitations with Moomins, decorate the table with a map of Moomin miniature and small plastic figures. Candy bags fill with Moomin biscuits, Moomin candies, small figures, or stickers. Place the tail of Moomin is an excellent game to play. Read on for more tips on how to organize a Moomin Party.
How do you arrange a knight's party? Make castles to write the invitations on. Serve chicken legs and knights cake. Enjoyable activities at the party are to let children make a shield and a sword. Learn more about organizing a knight party here.
How do you arrange a slumber party? At a slumber party, there should be plenty of mattresses, pillows, and quilts—good food to offer pizza and pancakes. A little later in the evening should chips and popcorn served. Good games at a slumber party are spin the bottle and who is hiding under the covers. More tips for the slumber party here.
What can you organize the games at a children's party? Children's parties often end with a fish pond. But there are also other games for kids such as relays, soap bubbles, put the tail of the pig, dishcloth race, kiss the frog and chocolate pudding game. More games at a children's party, you can find here.