Christmas is not only beautiful when you're an adult. It is also a time associated with stress and demands. You need to find great Christmas gifts, plan and prepare food. But it sure is a lot of fun too. It's nice to meet the children and grandchildren.
Christmas is probably one of the most magnificent feasts we celebrate, and above all. As early as October begins, the first Christmas decorations appear and then increase each day until finally, Christmas is here. Christmas is a tradition that is celebrated in many different ways all over the world. It is associated with different cultural traditions, but it is enough so that each family has its own unique Christmas traditions.
It is also the weekend when many may feel especially alone. So invite someone for Christmas Eve, or just for lunch! You can make a big difference and mean a lot to the person. Or why not invite to the Christmas game and let him or her be in your community for a while.
CHILDREN, GRANDCHILDREN AND OTHER CHILDREN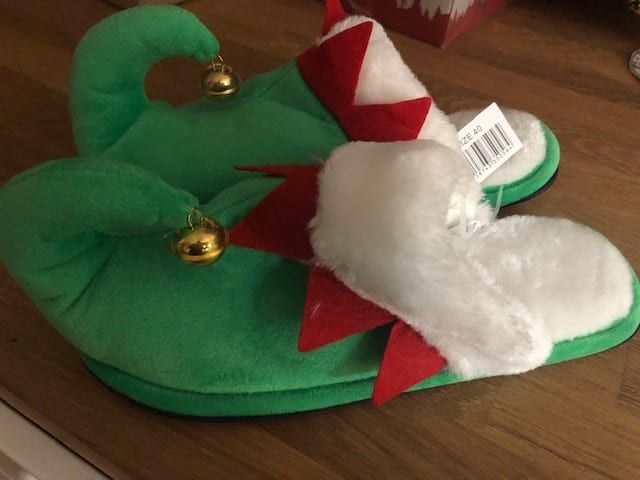 Finding Christmas gifts for children is not an easy task, and where I can be happy to give you some assistance. If it's your child, you have more clues on what they want or need, but it is other people's children or grandchildren, well then it can be trickier. So don't hesitate to ask their parents! But be sure to get more options and keep an eye on how many have told to buy a particular gift, so it does not get the wrong kind of surprise on Christmas Eve—looking for ideas for good Christmas gifts to children so you can find it here.
A tradition in our family is to find some fun Christmas presents too. This year it's a couple of elf slippers with a bell on.
What is a nice Christmas gift for a kid?
You have to find those Christmas presents
Our family has always focused on food for adults and gifts for children and young people. As time has changed when children are no longer so young, and adults still have to admit that a small gift can always be fun to get. Would you like some help with Christmas presents? I have a few tips!
Sometimes it can be challenging to find the right gift. Maybe that's why the Christmas game has become so popular. I think many families have adopted the tradition nowadays, with its own rules, of course. The challenge is to find gifts to suit everyone because you never know who makes your particular package. Many families tend to put a theme such as "consumption" were looking for supplies. It can be anything from patches of jam jars, chocolate, or beautiful napkins.
In our family, it is my father who is against everything. In previous years, he wanted us to give each $100, for which we would buy shares, which means that in practice, we put aside $100 to ourselves. However, this year he decided that we should give each other scratch lottery tickets. I think a bit boring, but if it makes him less stressed, it's excellent.
Make the Christmas gift personal
Who does not remember when you were little and made the gifts yourself that you gave away the mother or father. They are more appreciated than you might think. To do something special to grandparents, that is your creation, maybe this year's Christmas. Drawings framed, photo books or calendars with images from the past year, or even a box full of surprises with any theme. 
Yes, a box of beauty products, beer/wine tasting packages, or book packages, would probably also be the girlfriend or boyfriend appreciate. We want to find a unique gift that will be kept and remembered forever—tailored for the recipient.
One tip is to produce your own Christmas gift bags of fabric you got over. Make them in slightly different sizes and tie them with an elegant ribbon where you attach the label. The bags can use next year again, and again and again.
When there is more of the same Christmas present
Sure it's fun to get your gift just for you. But for a couple, you can buy matching Christmas gifts. Or maybe you are a group of people collecting to a more significant sum, so it will enable you to have more to choose from.
When you live together as a couple, there are always things that are needed. Perhaps it is even so that together collect such as glass, porcelain, or want to embed with matching duvet in the bedroom. One tip is to wrap the package in multiple layers so that both will open. It will guarantee them to laugh when it's time to tear the paper.
No celebration without food
An essential part of the celebrations, whether family or culture, is the food that usually gets a very central role. Most families have enough meatballs of different varieties, ranging from those that are made from beef, pork, turkey, or vegetarian. There are many variations, but the shape of them is the same.
Of course, it is not only the meatballs on the table when Christmas should be celebrated without a great variety of dishes. Everything from the different types of herring, several varieties of salmon, and not to mention the lutefisk. On the meat side, the turkey and ham are in focus, and the several kinds of sausages, such as Christmas sausage and salami. The latter was probably not a Christmas dinner for 100 years, but well some different types of sausage to be eaten cold. Many may think not about how many vegetables there is indeed a Christmas dinner. But if I say beetroot, cabbage, and corn as nods to secure an agreement. And exciting vegetarian and vegan options appear every year. Recipe for turnip au gratin, for example, has become a popular favorite for everyone, including those who also like to eat meat and fish,
Food is always fun and a conversation that can last indefinitely. Whatever you do, so do not underestimate the men in the kitchen. It is not uncommon for just festivals and celebrations to be occasions when they meet a little extra. Many are looking for inspiration and recipes on the internet, which, of course, is not at all wrong. Often the recipe you found last year is gone. You forgot to print it or happened to throw the recipe away when you cleaned the cabinet or drawer. Un-sorted paper is never fun. It is more fun if a real cookbook with pictures and where you can put a mark to remember was the favorite recipe. The era for cookbook time is not over; it is more popular and inspiring than ever, for all ages. Perhaps because many are built on a theme and gather all the things in one book. Would you rather see that every individual can "build" their cookbook with favorite recipes? Why not give away a neat binder to put in your prints or a nice book where they can be pasted.
Tips for Christmas presents to reduce your stress!
Is it challenging to think of Christmas? I think so, too, sometimes. Therefore, I have compiled my top tips on Christmas gifts on this site. My best Christmas gift suggestion is first to think a bit about who you will buy Christmas gifts for. Tips on Christmas gifts are difficult to make in general. Children wish for other Christmas gifts than adults do. Your grandma may not want the same things as your father does. Women want other gifts than men often. Therefore, I have divided this site into lots of different categories. I want to make it easy for you to get tips on Christmas gifts to suit the person you want to give Christmas gifts to. Games are presents as most kids will be happy to get. Also, the furnishings are popular. Here you will find Christmas gifts For :
Provide thoughtful presents
My next tip on Christmas gifts is that they do not have to cost so much. No one is happier to get a Christmas gift that you really can not afford. Then it is better that you give a thoughtful gift that suits the recipient. There are also many  Christmas gifts that you can do yourself. A gift given with love and care is worth much more than the money it cost. It is not as quick to get the impression that everyone else puts so much money on buying gifts. I've done a survey where I went out and asked how much the gifts may cost. You will be amazed at the results!
Wrap the gift nicely
Once you have found the perfect Christmas gift, I think you should add an extra hour to wrap Christmas gifts fine. A beautiful wrapping is as important as the content: an excellent paper, a small decoration, or a lovely ribbon around the gift.
Tips for Christmas presents to the whole family
Remember how it was when you were a kid? It was hard to sleep the night before Christmas Eve. You had been well behaved all day. (Otherwise, you won't get any Christmas gifts) You lay awake listening for noises. Perhaps Santa comes soon and puts a present in your stocking. That unique Christmas spirit does not fade with age. But as you get older, it often means Christmas more stress. All we hit well off that Christmas stress. I try to change by collecting tips on Christmas gifts for the whole family in the same place. I want to take the stress out of Christmas shopping. Christmas will have to be that great feast, just like when you were a child so that you can once again enjoy Christmas.
Christmas gift tips for the family
Here you will find a wide selection of the best Christmas presents. You can find both cheap and expensive Christmas gifts among the Christmas tips. Now you will not have to rush out of town to find Christmas gifts. Here you can find great Christmas gift ideas in one place and easily order them home via the Internet.
Sure it's nice to gather the whole family in front of the TV and watch Donald Duck. Then gather around the dining table and enjoy the food. We usually play some games in our family to keep our nerves in order while waiting for Santa. When Santa finally shows up, he brings something extra. On Nicegiftsnow.com, you will always find tips on Christmas gifts that will mean something special for the recipient.
My best tips for Christmas gifts
With this site, I want to make it easy for you to find fun, beautiful, and unique gifts for those you love. I want you always to find something, whether it's your mom, aunt, or cousin. You should still be able to find a wide selection of personalized gifts for your loved ones. It is not always easy to guess what people want for Christmas. But it need not be that difficult. I want to make it easy for you to enjoy Christmas and stress less this year.
Tips for further reading:
I hope you get a really nice Christmas with your loved ones!
Christmas' traditions and gifts